Welcome to Region 12!
---
Congratulations to our 2016 Champions
Bay Area Showcase

Chorus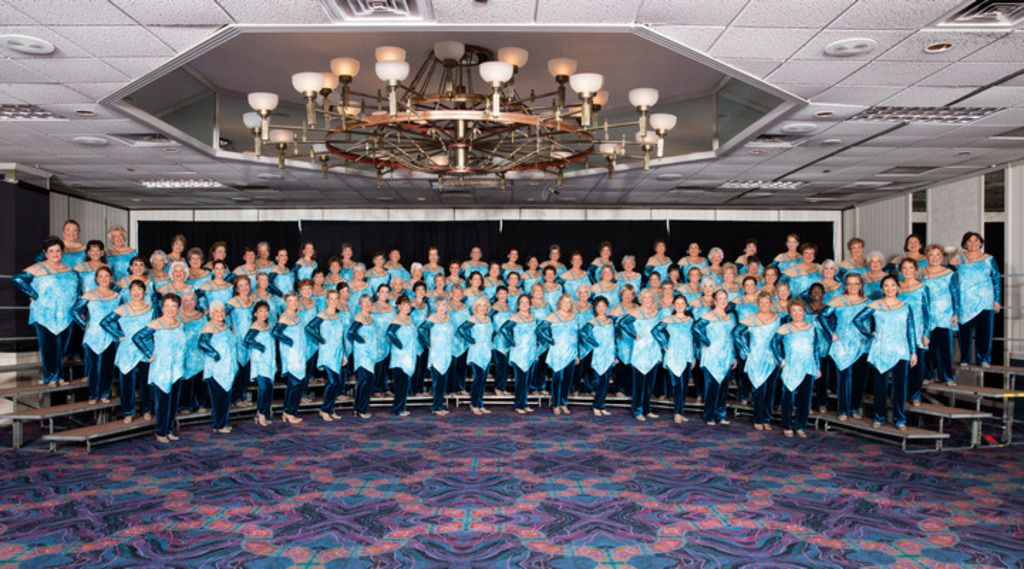 Turbulence

Quartet
AA Division champions: Pacific Empire Chorus
A Division champions:

Oregon Spirit

Chorus
Contest Results: Chorus

Audience Choice Award: Sounds of the Valley
Most Improved Chorus Award: Diablo Vista (88 points)
GYPCI Award (Greatest Yearly Percent Chorus Increase):Bella Acapella Harmony
BRAVO Award (Best Retention and Valued to our Organization): Harmony Fusion
Division A (15-30 on stage)
3rd Place: Greater Eugene
2nd Place: Bella Acappella
1st Place: Oregon Spirit
Division AA (31-60 on stage)
3rd Place: Harmony Fusion
2nd Place: Northern Gateway
1st Place: Pacific Empire
Overall Chorus Awards
5th Place Medals: Oregon Spirit (536 points)
4th Place Medals: Northern Gateway (556 points)
3rd Place Medals: Pacific Empire (599 points)
2nd Place Medals: Sacramento Valley Chorus (613 points)
1st Place Medals: Bay Area Showcase (667 points)
Contest Results: Quartets
5th Place Medals: Anticipation Barbershop Quartet (557 points)
4th Place Medals: LiveWire (586 points)
3rd Place Medals:Surprise! (598 points)
2nd Place Medals: Verve (601 points)
1st Place Medals: Turbulence (614 points)
Audience Choice Award: PDQ
Most Promising Tenor Award: Laurel Quast, Vocal Venture
Novice Quartet Award: Equilibrium
Most Improved Quartet Award (tie):
Verve & Fourmata
---
---
---
Members: if you are having trouble logging in:
Try to login as usual. If you get an error, then try resetting your password.
Click on Forgot Your Password?
Enter the e-mail address for your account. A verification token will be emailed to you. Once you have received the token, you will be able to choose a new password for your account.
If you get an error, you will have to register again and create a new account.
TO CREATE A NEW ACCOUNT:
1. Go to http://www.sairegion12.org/login.html
2. Click on Register
3. Fill in the required fields. Use TAB to move from one field to the next. When finished, click SUBMIT.
4. Wait for an "approved" email. The approval process could take an hour or two. (The admins have to see the request.)
5. After you are approved, go to http://www.sairegion12.org/login.html and log in.
---
Our Mission Statement

Pacific Shores (Region 12), as a part of Sweet Adelines International, promotes the joy of four-part A cappella singing to all women by providing opportunities for musical excellence, personal growth and leadership, through education and performance of barbershop harmony.

**********

See the wide variety of educational opportunities




held throughout the year.
Located in beautiful Northern California, Northern Nevada, Southern Oregon and Hawaii, the Sweet Adelines choruses and quartets of Region 12 welcome you to come, visit, and sing with us. Please visit the links on the right and above for more information on what is occurring in our region as well as contact information for each of the regional choruses and quartets. Our Management Team will also be glad to answer any additional questions you might have or to put you in touch with persons listed on the web site.
Our choruses and quartets love to entertain by putting on musical events each year for the community, our friends, and families. We put on local shows and performances, send "singing telegrams" on Valentine's Day and Mother's Day, and in an effort to stay committed to singing and performing at the highest level possible, we compete each year in a regional contest.
Please contact one of our groups to sing at your next special event!